Anita Naidu brings anti-racism training—and COVID-19 precaution
By: Dan Falloon Pique News Magazine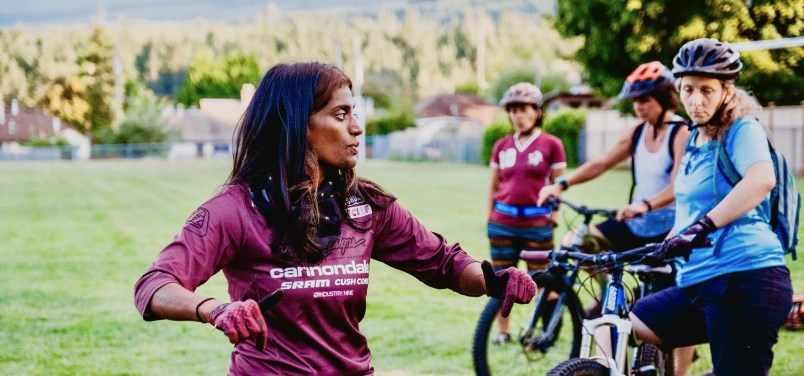 Anita Naidu teaching a course. PHOTO SUBMITTED
In a normal summer, Whistler's Anita Naidu would be jetting all over the world for any number of reasons.
But this year, for reasons greater than just the ongoing COVID-19 pandemic, she's happy to stay closer to home.
Naidu wears a number of helmets, ranging from pro mountain biker and coach to electrical environmental engineer to anti-racism advocate, and at a time when racial injustice is in the spotlight, Naidu is sharing messages of effective allyship through sport.
Instead of India, Africa and Europe, Naidu has brought her Bike Fest Series for women of all abilities across Western Canada to Saskatoon, the Cowichan Valley and Cumberland with future dates coming up in Vancouver, Nanaimo, Victoria and Williams Lake.
"It combines high-performance bike skills with social-impact education, and this year's social-impact training is focused on anti-racism, understanding privilege and learning how to be an effective ally," she said.
"A lot of the training has to happen here at home, anyway, so it's worked out quite well," added Naidu, who is also hoping to arrange camps in Squamish and, for the first time, in her hometown of Whistler this summer.
While combining humanitarian messaging in with a bike camp may seem like an odd mix to some, Naidu says that the two fit together quite well.
"Bike clinics provide people the opportunity for people to push their comfort zones, find a new centring of confidence and conquering these mountain bike objectives that they have," she said.
"[But] every chance we have to motivate and teach others, we should channel that enthusiasm into positive social change. Why not help people reach a higher objective than just teaching people to ride bikes fast?"
Naidu has developed her messaging through not only the sport clinics, as she works with companies, individuals and brands to boost their anti-racism and allyship efforts. She said it's important to get all people on board and to eliminate the bystander effect when something is clearly wrong. Another important point, she said, is that people come into camps believing that they are not racist—and leave with an awareness of how important it is to be anti-racist, as well as the tools and strategies to take action.
"I help them understand systemic racism and how it's a main driver of inequality and how people can be effective in dismantling it," she said. "The idea is, rather than shaming people to change, we inspire them to change."
While discussions of racial inequality have seen an uptick since a Minneapolis police officer killed George Floyd, who was Black, back in May, Naidu explained that while there is awareness, there's not necessarily understanding.
"Right now, there's a lot of moral incoherence regarding systemic racism. People understand that there is a problem, but they don't understand what the problem is," she said. "By coming to these clinics and understanding what privilege is, and the cultural and historic background of racism.
"A lot of people understand overt racism. What they don't necessarily understand is covert racism. What I'm seeing primarily is that people come to these and they start to understand that people of colour go through a different experience that shapes how they react, how they look at life.
"What people take away from this is how to build a better society."
In follow-ups with participants, Naidu has received encouraging feedback that her program made a difference.
"There's so much follow-up in how people interact with their families," she said. "People will say, 'You know what? I took everything I was taught and I started to influence my friends and my family.'
"That's where the biggest change actually takes place."
While the anti-racism and allyship training is optional, it's been well attended, selling out within an hour at stops across the country.
Admittedly, the experience of working in Canada has been different for Naidu this year, noting that her experience as a person of colour is different in India or Africa as opposed to North America or Europe.
"The idea of race can be very specific to the country that you're in," she said, noting that she speaks the local languages, which helps her appreciate the nuance of race in a particular community.
As well, B.C. is a world leader in outdoor recreation and mountain biking, especially in a gender sense, she noted. When Naidu travels, in addition to bringing skill, Naidu can provide everything from positive body image, encouragement to access education, and understanding and willingness of challenging the status quo.
"It's quite uncommon for women in the Middle East, in India, in Africa, compared to Europe and North America, to even have a culture of acceptance when it comes to women recreating, specifically in sports that are seen as requiring a lot of aggression," she said. "This has been really pivotal in changing the tide and introducing communities to what women can achieve as they start to gain confidence riding bikes and participating in sports."
COVID precautions
Naidu explained that the clinics also take great COVID-19 precautions, including incorporating CoronaShield, which she helped develop as an electrical engineer. The wristband, worn by all riders, vibrates when a rider gets within two metres of another wearer.
"We're basically asking people to keep physical distancing and hoping no one has COVID, and that's just really a shot in the dark, especially when you're talking about mountain bikng," she said.
"Bikers are breathing so heavily, and they're sweating, and as our Prime Minister said, they're talking moistly," she added with a chuckle.
Naidu said the technology was originally developed for the food industry, but was modified to fit the needs of outdoor camps. CoronaShield, she explained, also simplifies contact tracing if a wearer later tests positive.
For more information, contact mountainanita@gmail.comor @ABrownPanther on Instagram