https://www.bicycling.com/health-nutrition/a34495007/cyclist-diet-leah-kirchmann/
"BY FUELING YOUR TRAINING, THAT'S HOW YOU'RE GOING TO PERFORM AT YOUR BEST, AND THERE'S A LOT MORE GOING ON THAN JUST A NUMBER ON THE SCALE." BY MOLLY HURFORD Nov 2, 2020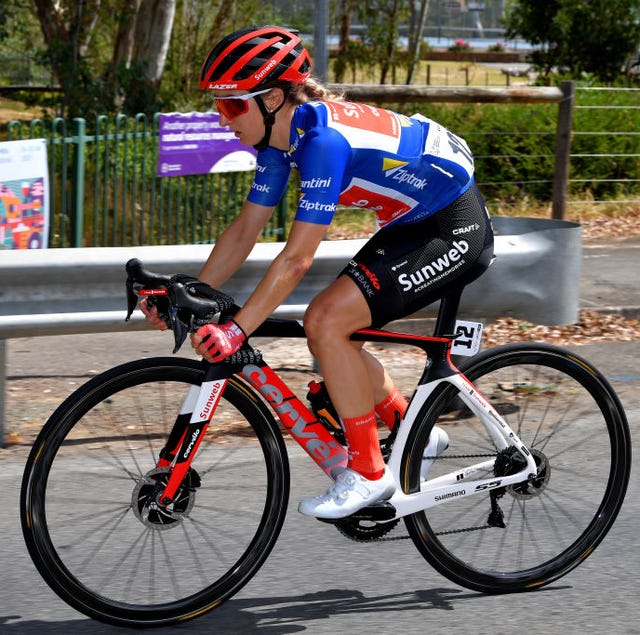 Tim de Waele Getty Images
For the last few years, Leah Kirchmann has spent most of her summers traveling all over the world to race, including at La Course—the women's Tour de France counterpart—where she placed second in 2019.
Now, due to the coronavirus pandemic, the Canadian pro roadie has been hunkered down in the Dutch city of Sittard, where Team Sunweb is based, since mid-July.
This month is particularly hectic, since her racing season has been compressed due to COVID-19—she says it's been one race after another. She's not sure when she'll be heading back to Canada, though, since she booked a one-way ticket to Europe, and upcoming races all feel as though they have question marks around whether or not they'll be happening.
MORE FROM BICYCLING
Still, Kirchmann finds her moments of calm in the small but bustling town in the Netherlands that's just a couple of hours from Brussels, Belgium, and does much of her training here between races. Plus she's glad to be able to race at all right now, even if it meant missing Thanksgiving at home in Canada. She makes up for it by doing what she loves to do: baking a fun twist on a holiday classic: pumpkin pie.
Here, she shares her top tips for what to do when you can't find a pumpkin, and how to time your baked goods around rides.
SUBSCRIBE TO BICYCLING ALL ACCESS FOR MORE ON HOW YOUR FAVORITE PROS FUEL!
---
Experimenting With Ingredients
I really wanted to make pumpkin pie because it was Thanksgiving in Canada earlier this month, and that's one of my favorite times to get together with friends and family. Since I couldn't be home, I wanted to make a pumpkin pie for my teammates, but it's really hard to find pumpkin in the Netherlands. I tried butternut squash as an alternative, and it actually does taste like pumpkin pie. I think the key was roasting the squash in the oven first to really let it caramelize, so it was a lot sweeter than if I just cooked it in a microwave. Then, I used the food processor to purée it, and used a standard pumpkin pie recipe with that swapped in for pumpkin purée.ADVERTISEMENT – CONTINUE READING BELOWThis content is imported from Instagram. You may be able to find the same content in another format, or you may be able to find more information, at their web site.
https://www.instagram.com/p/CGSnOI4FXwz/embed/captioned/?cr=1&v=13&wp=658&rd=https%3A%2F%2Fwww.bicycling.com&rp=%2Fhealth-nutrition%2Fa34495007%2Fcyclist-diet-leah-kirchmann%2F#%7B%22ci%22%3A0%2C%22os%22%3A54194.25499998033%2C%22ls%22%3A53892.47500000056%2C%22le%22%3A53987.82000003848%7D
---
A Typical Day
In the morning, I'll usually have oatmeal, but I'm always changing up what what I put in it. Recently I've been making steel cut oats with cinnamon, turmeric, candied ginger, and some quark—a kind of yogurt cheese that's popular over here—fruit, and maple syrup on top. And I have coffee.
Then, normally I go riding. I usually do a mix of our team product, which is Named Sport, for bars and my energy drink. But I also usually bring something that I baked to eat on the ride. I'll often make trail mix, cookies, or pancakes.RELATED STORYWhat Is Quark—and Is It Any Healthier Than Yogurt?
For lunch—or my recovery meal—I either have leftovers or make something new, like ramen. I'm always trying to get in enough carbohydrates and a source of protein for recovery. I've been really into soups because of the colder weather. Ramen soup has been the perfect recovery meal—getting the egg right is tricky, but I've found around five and a half minutes in boiling water is just about perfect.
I also eat a lot of snacks between lunch and dinner. I love more quark with muesli and fruit. Right now, I've been enjoying a lot of pears and apples—the fall harvest kinds of fruits. Then, dinner is always changing. It's about finding a good balance between the right mix of carbs and protein and always a lot of vegetables as well. I do curries, tacos, baked salmon with sweet potatoes, and veggies—things like that.
The Secret to the Perfect Banana Bread
Banana bread is one of my standard baking items. It's one of my favorite things to make, and I'm always thinking of creative ways to make it different. They actually sell my banana bread recipe at the Fixed Gear Cafe in the Netherlands. I'm good friends with the owners, and they knew that I was really into baking, so they asked me if I'd like to contribute something for their menu.
RELATED STORY10 Healthy Reasons to Eat a Banana Every Day
The secret is to start with really ripe bananas—wait for them to have black spots—and that will enhance the flavor a lot. When I'm having breakfast with banana bread and have time, I'll caramelize a few slices of banana in a frying pan to top it. When I'm in Europe, I'll add quark to it because it's really high in protein. At home, I would use regular yogurt, but I love being able to add quark.This content is imported from Instagram. You may be able to find the same content in another format, or you may be able to find more information, at their web site.
Eat Local, Wherever You Are
I think I'm definitely very inspired by whatever my location is in the world. But there is one thing that I travel with more often and bring from Canada: maple syrup. You can find it in Europe, but it's not easy. I also bring peanut butter and almond butter. In Holland, those are easy to find, but in some countries, it's almost impossible.
---
Eating Enough to Fuel and Recover
Over time, I've made the connections between what I'm eating and how I feel and how my recovery is going. There's a lot more awareness right now in the endurance sport world about the consequences from under-fueling, and with a sport like cycling, the demands are so high that it can actually be really hard to keep up with eating enough. I think I did experience some of those periods during my career unintentionally.
Now I know that, especially when I'm doing really big blocks of training and racing, I need to be a little bit more deliberate about eating enough. And it's tough because if you're only making those those healthier choices with protein and lots of vegetables, they're not always the most calorie-dense. When you eat a good quality diet, you have to eat a lot! It's fine to have some sugar in there, it's serving a purpose. Those bakery stops and treats around your training, that's serving a purpose—it's actually helping.
---
A Healthy Body Is a Fast One
Nutrition is a really powerful tool that can help you maintain a healthy and resilient body that will allow you to perform. That's what I tried to demonstrate by sharing what I'm cooking and what I'm eating [on social media]—it's just to show that you have to fuel the work that you're doing to to achieve that high performance. By fueling your training, that's how you're going to perform at your best, and there's a lot more going on than just a number on the scale. Eating properly will create that healthy and resilient body, but also one that keeps you racing. And I think that the key for me, for having a longer career, has been trying to do a good job with with using nutrition to fuel and recover.
MOLLY HURFORD Molly writes about cycling, nutrition and training, with an emphasis on women in sport.