JUIN 2020 INTERNAL NEWSLETTER As you've probably noticed, cycling in Canada is booming this spring! More Canadians are taking their bikes out for recreation and to get around, bike shops are busier than ever and cities across Canada have blocked off streets to give cyclists more space to ride safely. It's an exciting time for our sport and an opportunity to embrace new people who are discovering a love for bikes.

With the situation rapidly evolving in different parts of the country, here are all the Cycling Canada (non-HP) updates during the past month.
Updates

CALL FOR CONTRIBUTORS
With many different initiatives underway, we are still looking for contributors to help with the following things:
– How-to videos
– Shifting Gears articles
– Photos from return to training

If you are able to help in any of these areas, please reach out to Philippe.

News

CYCLING CHATS P/B AFEX WEBINAR SERIES
On June 3rd, Cycling Canada will host the first episode of a new monthly webinar series bringing together experts, athletes, coaches and cycling leaders from across Canada. The first episode will feature Curt Harnett, Leah Kirchmann, Michael Woods and Alex Stieda to discuss the evolution of road cycling. Places for staff are limited, so please reach out to Geordie if you would like to join. If you would like to host a webinar, please reach out to us.

CANADIAN JUNIOR VIRTUAL RACE SERIES
The Canadian Junior Virtual Race Series was launched on May 24th on the RGT platform in collaboration with the Saskatchewan Cycling Association Performance Cycling Program. With the aim to keep Junior and U17 riders active and engaged, participants will get to race on courses across Canada every week and will be automatically entered to win a factory installed 4iiii Precision Power Meter.

CYCLING CANADA VIRTUAL RACE SERIES P/B ARGON 18
The Cycling Canada Virtual Race Series p/b Argon 18 is coming to an end this Sunday, after four weeks of challenging rides all over the country. Participants who complete all four courses will be automatically entered to win an Argon 18 and Cycling Canada prize package. Click here to sign up.
Photo: Sprinter Kelsey Mitchell weight training at home

EventsDOMESTIC CALENDAR UPDATE
Cycling Canada has recommended that all cycling events on the domestic calendar be postponed or cancelled until July 31. In the meantime, we are working collaboratively with all organizers and stakeholders to develop an updated calendar by June 19th which would include national calendar events to be hosted between August 1st and November 30th. Click here to see the full list of cancelled or postponed events.

UCI WORLDTOUR AND MTB CALENDAR UPDATE
In May, the UCI announced revised calendars for both road and mountain bike. The revised UCI WorldTour calendar retains all five Monuments and the three Grand Tours, as well as the original dates for the Grand Prix Cycliste de Quebec et de Montreal. The UCI MTB World Cup calendar will include several rounds across Europe throughout September, with the XCO MTB World Championships taking place in Austria in early October.

HOW TO PREPARE FOR A PROGRESSIVE RETURN OF CYCLING ACTIVITIES
As deconfinement measures are lifted, businesses reopen and health guidelines evolve, Cycling Canada remains committed to providing a safe environment for participants by following the recommendations of the federal and provincial government health authorities. These guidelines provide recommendations for the return to organized cycling activities.

WORLD BICYCLE DAY
On June 3rd, the entire world will come together to celebrate bikes. Make sure to highlight this special occasion by using the hashtag #WorldBicycleDay on social media and going out for a spin!



Photo: Argon18 with 4iiii Power Meter / Photo credit: Nick Wammes

SHIFTING GEARS SERIES
The Shifting Gears blog provides a platform to explore interesting topics and ideas by athletes, coaches, trainers, experts, members of our staff and the larger cycling community. Last month, articles published on Shifting Gears tackled the following topics: Big Macs and Superhumans, Strength Training with Minimal Equipment for a Cyclist, Daily Check-In For Cyclists and Resources for Cyclists of All Levels. We are always on the search for new contributors, so if you have an idea or would like to suggest someone we should reach out to, please feel free to contact us.

INFOLETTRE DES EMPLOYÉS – JUIN 2020
Comme vous l'avez probablement remarqué, le cyclisme au Canada est en plein essor ce printemps! De plus en plus de Canadiens prennent leurs vélos pour les loisirs et pour se déplacer, les magasins de vélos sont plus occupés que jamais et les villes du Canada ont bloqué les rues pour donner aux cyclistes plus d'espace pour rouler en toute sécurité. C'est une période passionnante pour notre sport et une occasion d'embrasser de nouvelles personnes qui découvrent un amour pour les vélos.

La situation évoluant rapidement dans différentes régions du pays, voici toutes les mises à jour de Cyclisme Canada (non-HP) au cours du dernier mois.

Mises à jour

APPEL AUX CONTRIBUTEURS
Avec de nombreuses initiatives différentes en cours, nous sommes toujours à la recherche de contributeurs pour aider avec les choses suivantes:
– Vidéos pratiques
– Articles sur Changement de Vitesse
– Photos du retour à l'entraînement

Si vous êtes en mesure d'aider, veuillez contacter Philippe.

Nouvelles

CONVERSATIONS CYCLISTES P/P AFEX
Le 3 juin prochain, Cyclisme Canada lancera le premier épisode d'une nouvelle série de webinaires mensuels réunissant des experts, des athlètes, des entraîneurs et des chefs de file du cyclisme de partout au Canada. Le premier épisode mettra en vedette Curt Harnett, Leah Kirchmann, Michael Woods et Alex Stieda qui discuteront de l'évolution du cyclisme sur route. Les places sont limitées pour nos employés, alors veuillez contacter Geordie si vous voulez participer.

SÉRIE DE COURSES VIRTUELLES JUNIORS CANADIENNES
La série de courses virtuelles juniors canadiennes a été lancée le 24 mai sur la plateforme RGT en collaboration avec le programme de cyclisme de performance de la Saskatchewan Cycling Association. Ayant pour but de garder les coureurs juniors et U17 actifs et engagés, les athlètes pourront participer à des courses partout au Canada chaque semaine et seront automatiquement inscrits pour gagner un wattmètre de précision 4iiii installé en usine.

SÉRIE DE COURSES VIRTUELLES CYCLISME CANADA P/P ARGON 18
La série de courses virtuelles Cyclisme Canada p/p Argon 18 prendra fin ce dimanche, après quatre semaines excitantes à découvrir des parcours à travers le pays. Les participants qui termineront les quatre parcours seront automatiquement inscrits pour gagner un ensemble de prix Argon 18 et Cyclisme Canada. Cliquez ici pour vous inscrire.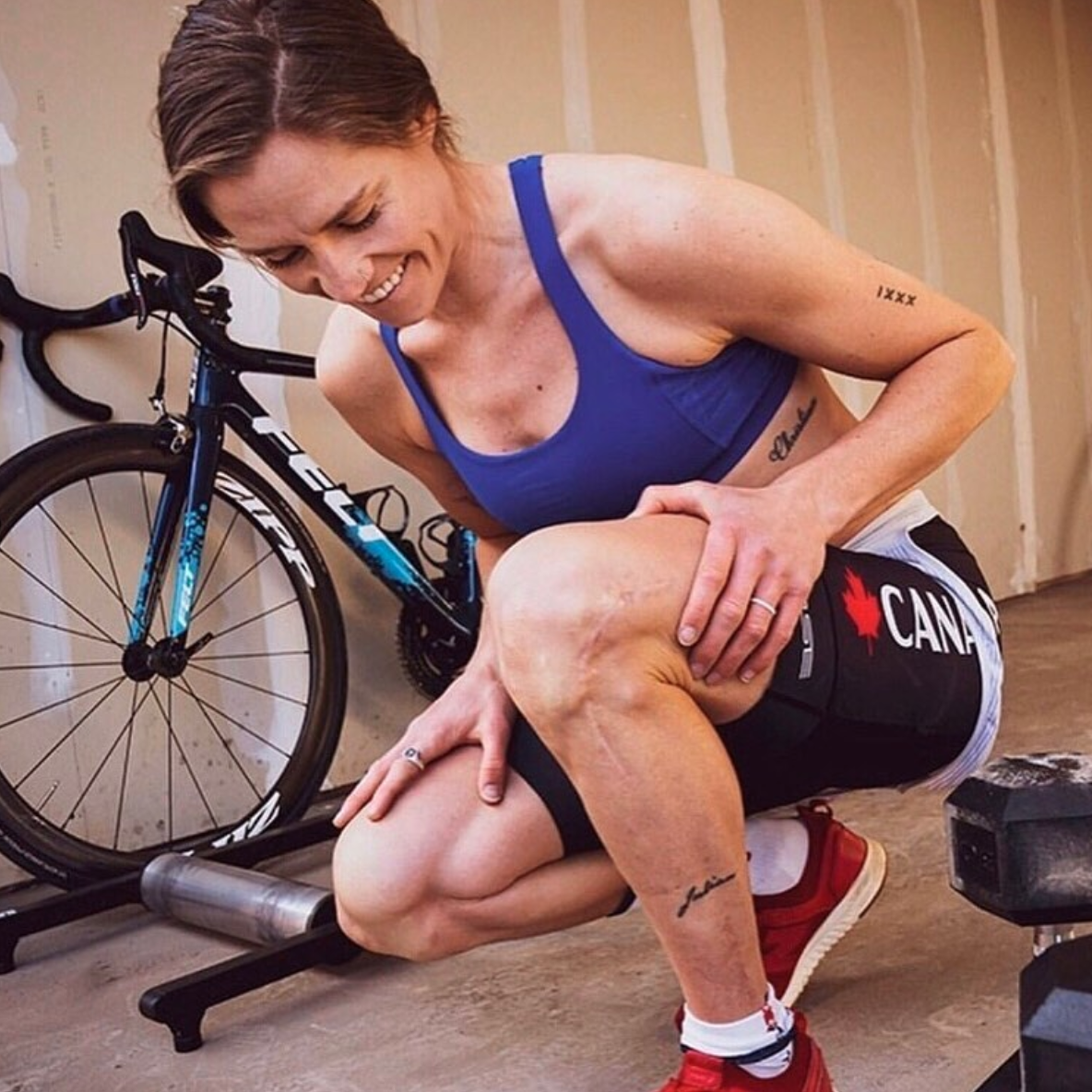 Photo: Georgia Simmerling à l'entraînement

Événements

MISE À JOUR DU CALENDRIER DOMESTIQUE
Cyclisme Canada a recommandé que tous les événements cyclistes du calendrier national soient reportés ou annulés jusqu'au 31 juillet. Entre-temps, nous travaillons en collaboration avec tous les organisateurs et les intervenants pour élaborer un calendrier mis à jour d'ici le 19 juin qui inclurait les événements du calendrier national entre le 1er août et le 30 novembre. Cliquez ici pour voir la liste complète des événements annulés ou reportés.

MISE À JOUR DU CALENDRIER UCI WORLDTOUR ET VÉLO DE MONTAGNE
En mai, l'UCI a annoncé des calendriers révisés pour la route et le vélo de montagne XCO Le calendrier UCI WorldTour révisé conserve les cinq monuments et les trois grands tours, ainsi que les dates d'origine du Grand Prix Cycliste de Québec et de Montréal. Le calendrier de la Coupe du Monde XCO comprendra plusieurs manches à travers l'Europe tout au long du mois de septembre, ainsi que les Championnats du Monde qui se dérouleront en Autriche début octobre.

COMMENT SE PRÉPARER POUR UN RETOUR PROGRESSIF DES ACTIVITÉS CYCLISTES
À mesure que les mesures de déconfinement sont levées, que les entreprises rouvrent et que les lignes directrices concernant la santé évoluent, Cyclisme Canada demeure déterminé à offrir un environnement sécuritaire aux participants en suivant les recommandations des autorités sanitaires fédérales et provinciales. Ces directives fournissent des recommandations pour le retour aux activités cyclistes organisées.

JOURNÉE MONDIALE DU VÉLO
Le 3 juin prochain, le monde entier se réunira pour célébrer les vélos. Assurez-vous de souligner cette occasion spéciale en utilisant le mot-clic #WorldBicycleDay sur les réseaux sociaux et en faisant une balade à vélo!



Photo: Catharine Pendrel profite de ses pistes locales

CHANGEMENT DE VITESSE
Le blogue Changement de Vitesse fournit une plateforme pour les athlètes, entraîneurs, experts, membres de notre personnel et de la communauté cycliste en général pour explorer des sujets et des idées intéressantes. Le mois dernier, les articles publiés sur Changement de Vitessse ont abordé les sujets suivants: Big Macs et superhumains, l'entraînement en force pour les cyclistes utilisant un minimum d'équipement, vérification quotidienne du corps pour les cyclistes et ressources pour les cyclistes de tous les niveaux.

Facebook

Twitter
YouTube
Website
Instagram Copyright © Cycling Canada, All rights reserved.

Our mailing address is:
Cycling Canada
203-2197 Riverside Drive
Ottawa, ON K1H 7X3
unsubscribe from this list update subscription preferences